Lent 2021 – The Unexpected Journey
Starting with Ash Wednesday, February 17, we remember the story of Jesus' face set toward Jerusalem, and the shared journey toward the heart of a people. A people that Jesus longs to hold under wing; people who long for salvation; and people who aren't exactly expecting the transformation that will be necessary.
We continue walking with each other in community through what is already quite an unexpected journey for ourselves. As we gather for worship and conversation, we pray for and walk toward a sacred transformation for ourselves and our world. We hope you can join us on the Lenten journey in these ways this year:
Weekly Sunday Worship
Join us weekly for worship on Sundays at 10am. Please join our mailing list to receive each week's Zoom & YouTube links, or send us a request using the contact form.
Ash Wednesday Worship
Shalom hosted an Ash Wednesday ritual with a small amount of water and soil inviting any of us — all ages — to be drawn into remembrance of the earth from which we rise and return, and which sustains us in the interim. If you missed the service, send us a request for the link to view it using our contact page here.
Midday Ecumenical Lenten Worship, 12:15pm
Weekly on 

Wednesdays  starting Feb 17, and daily during Holy Week

As a sign of our unity with other communities of faith, ecumenical leaders from around the Shenandoah Valley will lead mid-day Lenten Worship each Wednesday at 12:15pm. Services will be 20 minutes long and will reflect the diversity of voices and traditions in our community that all call us to find strength in our unity in Christ.

Worship leaders for Wednesday February 24th are Brian Bolton of Shalom Mennonite and Rev. Lauren Eanes of Muhlenberg Lutheran Church. Click here to view the 2/24 service live or to watch a recording anytime afterwards. 
Daily Lent Devotional
Seven Shalom writers and artists join many others from Community Mennonite Church, Chapel Hill Mennonite Fellowship, and Raleigh Mennonite Church to produce a Daily Lent Devotional. You can sign up here to receive each day's devotional by email.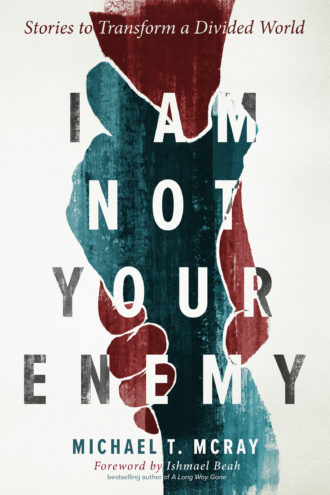 A Shalom Common Read & Book Club
Shalom's Formation Team developed a short-list of books to inspire us together this year, starting this Lent with I Am Not Your Enemy by Michael McRay. I Am Not Your Enemy is one of MCUSA's common reads for this year as well. Here's part of the book summary from Herald Press:
"In a time of heightened alienation and fear, McRay offers true, sacred stories of reconciliation and justice, asking what they can teach us about our own divided states. Must violence be met with violence? Is my belonging complete only when I take away yours? Will more guns, more walls, more weapons keep us safe?"
"We need stories that cultivate empathy and tell the truth. We need stories to save us from our fear."
Brian Bolton will host a weekly online conversation about the book during Lent, reviewing one or two chapters at a time. If you are interested in participating, let us know with this survey, and/or join our newsletter list for updates about opportunities for discussion. And feel free to investigate more on your own or using the links below:
An interview with author Michael McRay
Book Discussion Guide provided by MCUSA / Herald Press